Scroll to the bottom to enter to win!!
One of my favorite things to do at The Whole Dancer is host a fun giveaway where you have the chance to win beautiful, inspiring, health promoting prizes. This year we've got our biggest giveaway yet + a holiday gift guide. Whether shopping for yourself of someone else, check out these gift ideas to mix it up.
Songbird Dancewear : Started by Hope Hagen during her time at Butler University, this company is really
taking off as Hope creates unique designs with lovely fabrics.
One follower of The Whole Dancer will win a leotard of her choice from Songbird Dancewear!
Here's a photo of Hope in one of her own designs. Photo by Brittany Gleason.
SimpleSense Now : This company was started by Health Coach Deanna Rae. Her aspiration is to provide the food industry with better quality snacks & desserts made with organic, real, and nourishing ingredients.
These snacks provide perfect on the go fuel for dancers. Stash a tube of "bites" in your dance bag and you'll be powered through rehearsals or class.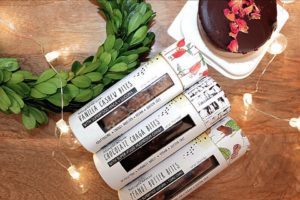 One follower of The Whole Dancer will receive a case of raw bites and a chocolate chaga cake from SimpleSense Now.
Apollo Performance Wear : This company has really taken off and been much more visible in the last year. For good reason – prioritizing the
 health of your feet and ankles deserves attention!
"Apolla Shocks are the only footwear for dancers that provides Arch support, Ankle stability, energy Absorption (our 3 A's) and our customizable traction.
Our targeted compression for key insertion points of the feet help to lift, support, and remove inflammation."
One follower of The Whole Dancer will win a free pair of shocks + a mesh carry bag from Apolla Performance Wear!
Dancewear Solutions : I've just discovered this website and I appreciate the mix of traditional dance clothes (leotards and tights) and very reasonably priced leggings and activewear.
Pro – tip – when it comes to tights I always order 1 – 2 sizes up from what the size chart suggests. There's nothing worse than tights that are too tight!
Click here for 20% off Holiday Gifts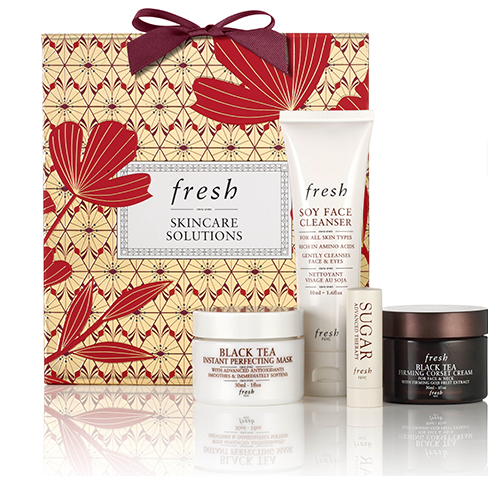 Fresh : Skincare Solutions Gift Set
During Nutcracker your skin takes a beating. There's A LOT of makeup going on and little time to allow your skin to breathe, recover and rejuvenate. This gift set will help
you moisturize and restore balance to your skin.
One follower of The Whole Dancer will receive the Fresh Skincare Solutions Gift Set.
MooreSkirts : This company hasn't even launched yet but we're getting a preview at The Whole Dancer!
Brooke Moore, former Principal Dancer with PA Ballet, Corps de Ballet Dancer with San Francisco Ballet and current teacher at the BalletMet Dance Academy started MooreSkirts just for fun making skirts for her friends and colleagues.
It's taken off and will launch on Etsy in January 2018! For now, find and follow on Instagram.
One follower of The Whole Dancer will receive a skirt of their choice from MooreSkirts!
Leos by Kat : from a wonderful mother daughter team you get well made custom and pre – made leotards.
At Leos by Kat you'll find some of the loveliest mesh details and designs available. The holiday deadline has passed but gift cards are perfect!
One follower of The Whole Dancer will win the Maren leotard in white mesh andcream/floral print (*not pictured*) in her size!
Day Designer : for the planner obsessed. I'm very
planner obsessed and this planner has been my go – to for the last 3 years.
With a page per day, full month view and a goals
section in the front the day designer mini or classic makes a great gift for any determined dancer.
One follower of The Whole Dancer will win a Day Designer mini in Rosey Posey print (*not pictured*)!
Enter to Win
The Whole Dancer Holiday Giveaway 2017
The Whole Dancer 2017 Holiday Gift Guide and Giveaway