If you've been eyeing The Dancer's Best Body Program since it launched, but you're hesitating, I want to clear up a few things.
This program IS NOT for everyone! And, it's so important to me that only the right people sign up so I'm going to share some of the questions I get most frequently.
#1 – I don't want to lose weight but I'd like to take better care of myself. Is this program for me?
This program is about tackling your body goals. They may or may not include weight loss. If you're coming back from an injury or want to prevent injuries in the future or you simply want to make sure you're dancing at your peak level, then yes – this program is for you.
#2 – I have food allergies or sensitivities will this program be ok for me?
Yes! The concept of bio – individuality (more on that in the program) and finding that eating plan that fits your unique body is of the utmost importance. It's not about getting you all to conform to the same way of eating but rather helping you uncover the unique food plan that works to get you to your personal best body!
#3 – I've got auditions starting this month and I want to be skinnier now! Can you help me lose weight fast?
No. This program is not about a quick fix and it is absolutely not a crash diet. It's about transformative, long – lasting changes. The goal is to help you attain your personal best body so that you feel your most confident in the studio and on stage. For. Your. Lifetime.
This is not about fad diets or calorie restriction. It's about functioning at the same level as a high performance athlete because as a dedicated dancer, that's what you should be striving for.
#4 – Is there an age requirement to participate?
No! The program is best suited for ages 17 + but if the subject matter appeals to a younger dancer, they can certainly take part – however, they may require additional guidance (either from a parent or through the Elite coaching package). Anyone under age 18 will need a parents permission when they sign up.
#5 – Between classes, rehearsals, upcoming auditions and/or school, I'm very busy. How much of a time commitment is the program?
The program is very flexible. It can be accessed on an iPad, tablet or even a smart phone! You can take the program anywhere! Average weekly commitment is about 1 – 2 hours but when you consider the possible achievements and impact on your dance career, that's not much at all!
You also have lifetime access. So for as long as the course is in existence, you can come back to it and catch up or dive even deeper!
For full program details and to save your spot GO HERE and enroll before it's too late!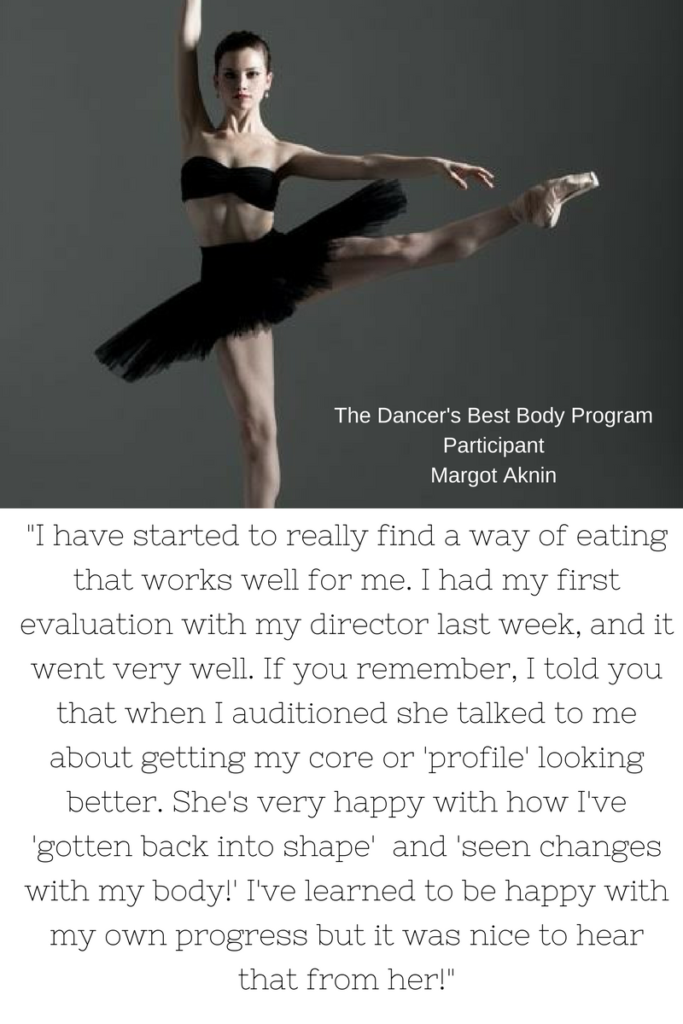 Is this why you're not ready for your best body?